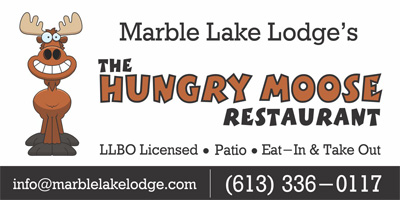 The Hungry Moose
Has you covered! Whether you're looking for a quick meal, a cold beverage, or a special event at the lake!
Restaurant opens May 17 weekends only June 14 open 7 days a week.
We accept Visa, Mastercard and Debit.
CATERING SERVICES & SPECIAL EVENTS
Marble Lake Lodge offers off-site catering services for special events eg. wedding, birthday, corporate function, and can host special events at our fully licensed dining lodge!
Call us for a quote/proposal