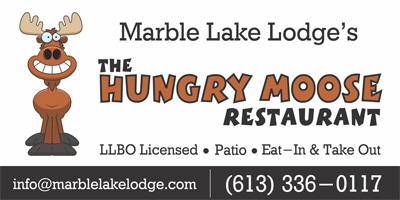 COVID-19 and Marble Lake Lodge home of The Hungry Moose
To our valued customers,
Our Dining Room and Patio is fully open!
We would like to assure you that we are working hard to keep up to date with the current COVID-19 precautions as indicated by KFL&A Public Health because your health, the health of our employees, families, and that of the surrounding community is important to us.
Please note that we have educated our staff in proper hygiene and are trying our best to take the extra necessary measures to ensure the utmost cleanliness of our establishment.
All staff has been notified to be conscious and open about their own health and have been advised to stay home if sick.
TOGETHER WE CAN FLATTEN THE CURB
We accept Visa, Mastercard and Debit.
CATERING SERVICES & SPECIAL EVENTS
Marble Lake Lodge offers off-site catering services for special events eg. wedding, birthday, corporate function, and can host special events at our fully licensed dining lodge!
Call us for a quote/proposal